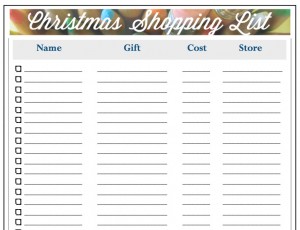 One of the biggest parts of the Christmas preparation is getting gifts purchased. So, organizing this task makes the entire season so much more enjoyable.  There are a few things I do to make christmas gift shopping as painless (and fun!) as possible. A electronic and printable christmas gift list is step one!
Keep an Ongoing Idea List
I use Evernote (and a paper notebook before that) to keep a list of gift ideas year-round. If i'm with someone and notice they mention they need a spice rack? I quickly enter it into my list. If I see something that would be a good gift, but I'm not sure for who? I either take a picture or write it down and add it to my "General gift ideas" list. When Christmas comes around, I usually have ideas for about 2/3 of the folks on my list. This also allows me to buy things when sales come up.
Have a Shopping List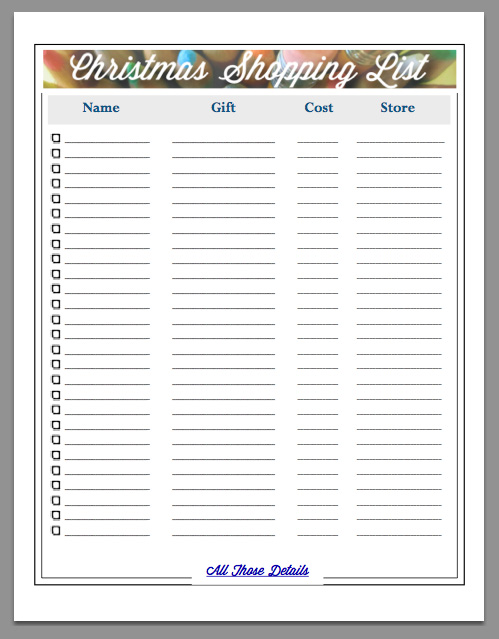 I change between solely relying on my Evernote list and a paper list. There's something great about being able to physically check off items on my list. For a day of shopping, I'll usually use a paper list. Here's a printable version of my paper list (
Christmas Shopping List
)
The key to both my lists is the "Store" column. By writing the store in the far right column, I can easily scan the list and make sure I get everything from a store before I checkout. I also add "Wrapping" as a name on my list to make sure that I get all the wrapping supplies I need while I'm out.
Make Christmas Shopping a Social Event
Haven't seen a friend in a while? Ask if you can meet for lunch and do a little Christmas shopping. If you've got your list all ready it will be easy to chat as you walk through the stores. (Plus talking with someone will make it easier to ignore the annoying Christmas music – they always play Sugar Plum Fairy too fast!). As an example, my mom, grandma, aunt, sister, and I used to drive 2 hours to the closest big city every December to do a full day shopping. It was always a great time and something we all looked forward to (they still do it, but I live a state away), plus we always checked a bunch of people off our list!
Making shopping a fun, social part of the holiday season, it won't seem like such a chore. Friends are good for brainstorming ideas for those difficult people too!
What are your tips for organized and successful Christmas shopping?